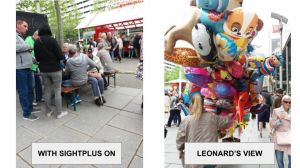 A few of our users have taken SightPlus on holidays, across Europe. Their experiences, shared through testimonials, pictures and videos, illustrate the uniqueness of the prototype's potential.
"I have just been on holiday in France. I used SightPlus in churches, art galories, museums and to look at feature of architecture and landscape. Very helpful. I suggest you might consider "SightPlus puts seeing back into sight seeing" as a marketing line!
For me, it enables meta see things that I have never seen and/or other things in ways I have never ever seen them. For the majority of the visually impaired, it should restore the possibilities of going into art glories museums its churches and viewing other things that they would otherwise no longer see or appreciate.
The one thing that did surprise me was that I did not always know what I was looking at. I mean by that although my level of acuity and field have been miraculously enhanced and clearly SightPlus enables me to see an object I sometimes have to be told what it is or have features pointed out to me. For someone who has always had a vision problem that makes sense when you think about it but it is a queer experience. You have to learn to see and register what SightPlus enables you to see. In other words, it will take me some time to fully appreciate let alone benefit from what SightPlus and its successor can deliver. I think I would sum it up as previously I could discern form, now I can discern or am beginning to discern substance."
John
"
At almost 87 years young and registered Blind for 10 years, I, together with my wife, have recently been on holiday to Germany, 2 nights hotel in Berlin, 4 days river Cruise, followed by 2 nights hotel in Dresden. I carried my SightPlus along and in the lounge

on the ship, I met a man who had been diagnosed

with Macular. He and another

man tried out my Sight Plus, and were amazed at what they could see. Later at Dresden, aSaturday afternoon!

Busy shopping street! Dixieland band playing! There's me with SightPlus on I got a few funny looks! Even so, I got

2

local men to try it out, then off to the shopping centre – 3rd floor, where I could see what was going on.

To sum up, for someone with

severe sight

impairment, using SightPlus "say sitting in a Cathedral" or similar building, would mean to be able to see great detail.
"