Maisy, a full-on trial...and yes, she is keeping her SightPlus!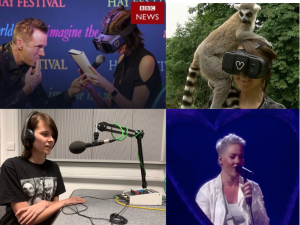 Last month, Maisy made thousands of people cry. The BBC Click video where she tries SightPlus and starts describing details about the audience has been seen by more than 1 million people.
Getting so much interest was a first for us at GiveVision and it has highlighted even more how becoming visually impaired is difficult because being aware of coping strategies and being able to try different low vision aids isn't a smooth process. It will depend on where you live, how tech-savvy you are and what kind of organisations provide support around you.
The work of people like Maisy sharing their experience using various solutions, especially on social media, is so important to support visually impaired people through their journey of adjusting.
At this point in time, there isn't one solution to addressing daily challenges. People need to use a set of tools which will vary from each individual.
During the Hay Festival, I was quite shocked on how Maisy could easily read and I even thought "That is too good to be true, people will think that we make miracles!." At some extent, I guess we do but like any devices, it has its advantages and downsides. That is why we organise testing sessions with end-users before deploying a device.
Otherwise, we are so glad that Maisy has used her SightPlus for most of her summer adventures. She had a full-on trial taking SightPlus to two concerts, to a music festival, and to the West Midland Safari Park. She also had a few interviews with Radio Wales and Radio BBC Hereford and Worcestershire.
We are very excited to count her as an Ambassador and we are looking forward to hearing how SightPlus could make a difference to her studies.
Blog written by Elodie Draperi.